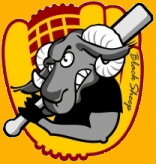 Black Sheep Berlin
since 2007
1.Platz Cube Cup -
Berlin
1.Platz Mosquito Cup -
Bochum
FAQ
Where do the sheep play?
The playing field is located centrally, right next to the airport Tempelhof.

Where do the sheep practice in summer time? We practice every Thursday in Berlin-Tempelhof from 5:00 pm toball game. The closest U-Bahn stations are Südstern or Platz der Luftbrücke.

Is there an age limit?
Basically no. Our team mates are age 23 to 50+. Age does not matter when it comes to playing Softball.

Do I have to have experience in playing Softball?
Most of our players have a long experience in Softball, but beginners are also very welcome. You should be sporty, not be afraid of softballs and like to learn a new sport.

Do I need special equipment?
For the beginning regular sportswear is enough. All other equipment will be provided by the team. Later on you need a Softball-glove and cleats.

Is Softball a time-intensive sport?
The extent can basically determined by yourself.During winter we only practice once a week. In summer, during the season we have several opportunities to practice and play with the sheep. But you should at last practice once a week.

Why don't you play Baseball?
We just love Softball. Softball is related with Baseball. There is no better or worse, it is just a different sport. One of the advantages of Softball is that both women and men can perform this sport together.

Why should I become a sheep?
The best way, find out for yourself what makes the sheep a special team.
Play ball - Play Sheep
Play Ball - Play Sheep Welcome to the black sheep. We are a friendly, international herd of sheep playing Fastpitch as well as Slowpitch Softball. Our players come from all over the world, Czech Republic, USA, Canada, Japan, Taiwan, Dominican Republic, Mexico, The Netherlands, Australia and Germany. Sheep playing Softball you can find everywhere.

In our first season we finished fourth in the MSL Mixed Softball League (Fastpitch) as well as in the DSL Diplomatic Softball League (Slowpitch). Once in a while we graze on pastures outside Berlin. In 2008 we played in: Softball Summer Fun in Hevensen (2nd place), Cube Cup in Berlin (1st place) and Mosquito Cup in Bochum (1st place).

2009 we won the Berlin Championsship.
2010 we won the German Championsship in Mixed Softball in Mannheim.

Now we are building a second team - the Black Bandits!

We need everytime, because many players are only a short time in Berlin.

Most of our sheep have a long experience in Softball and are anxious to show you the first steps. If you are sporty and like to learn a new sport just send an e-mail or give us a call. Join us, Play Ball, Play Sheep

Feel free - call Martin 0049-151-143 46 97